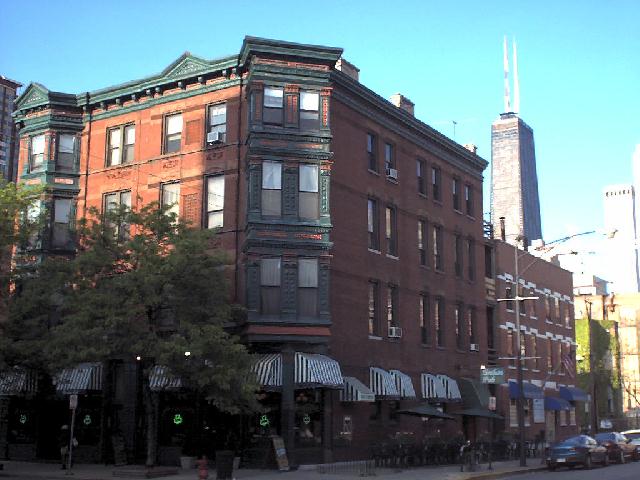 \
2003 NB
In August of 1977, a team of undercover reporters from the Chicago Sun-Times and CBS' 60 Minutes opened a bar here on the corner of Wells and Superior. They called it, fittingly, The Mirage. Posing as bartenders, the reporters were offered numerous bribes by city inspectors for overlooking code violations. 60 Minutes' hidden cameras caught it all. On January 8, 1978, after four months of operation, the Sun-Times began a monthlong series exposing the corrupted inspectors.

The undercover investigation led to widespread reform, and was nominated for a Pulitzer Prize. But the panel of Pulitzer judges was torn. On the one hand, it was a gutsy, imaginative, and revealing investigation. On the other hand, the reporters had employed deception to obtain their findings. The panel passed on the Mirage series. "The board concluded that truth-telling enterprises should not engage in such tactics," writes Jack Fuller in News Values. "I still think they were wrong," says Len Smith, one of the judges who favored the series. "I've never spoken to anyone involved in the Mirage project who's lost a second of sleep to remorse, or who says good riddance to the kind of journalism it embodied," wrote the Chicago Reader's Michael Miner on the 25th anniversary of the investigation. "Inauthentic? On the contrary. They hail it as journalism verismo." Miner quoted Pam Zekman, one of the reporter-bartenders whose idea it was to open the Mirage: "I'd do it again in a second." Today the bar is called Brehon Pub, and the Mirage is mostly a memory. -NB

Further Reading:
-Michael Miner's column on the Mirage in the Reader
-Review of The Mirage, the book by Sun-Times reporters Zay Smith and Pamela Zekman
-Summary of the Mirage investigation from the Better Government Association
-Biography of Mirage reporter William Recktenwald
-See also: "Dig She Must," Chicago Tribune Magazine, June 23, 1985, by Linda Witt, a profile of Pam Zekman.